A home energy audit, also known as a home energy assessment, is the first step to assess how much energy your home consumes and to evaluate what measures you can take to make your home more energy efficient. An assessment will show you problems that may, when corrected, save you significant amounts of money over time.
One homeowner must be present during the Home Energy Savings Audit. A trained energy specialist will visit your home, at your convenience, to conduct a thorough in-home analysis. Our energy specialist will:
Analyze your total home energy usage.
Check your home for air leaks.
Examine your insulation levels.
Review your appliances and heating/cooling system.
Based on the information collected, our expert will give you a custom-tailored report detailing steps you can take to increase efficiency and lower your energy bill.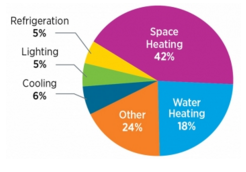 The combination of your air conditioning and heating units plus your water heater can account for as much as 60% of your energy bill. If your air conditioning system is over 8 years old the potential energy savings a new system will provide are substantial.
Contact us today to find out how efficient your home is…or is not. 803-438-1902
Return to Services